on Thu Nov 08, 2018 9:30 pm
Hallo,
Ich habe das Problem das meine Intesivstation nicht funktioniert. Ich habe diese erbaut, als ich meine Chirugie abteilung fertig hatte. Damit wollte ich meine kritischen Patienten versorgen.
Leider ist mir dann schnell aufgefallen, dass kein einziger Patient in die ITS eingeliefert wurde.
Ich hoffe ihr könnte mir mit dem Problem helfen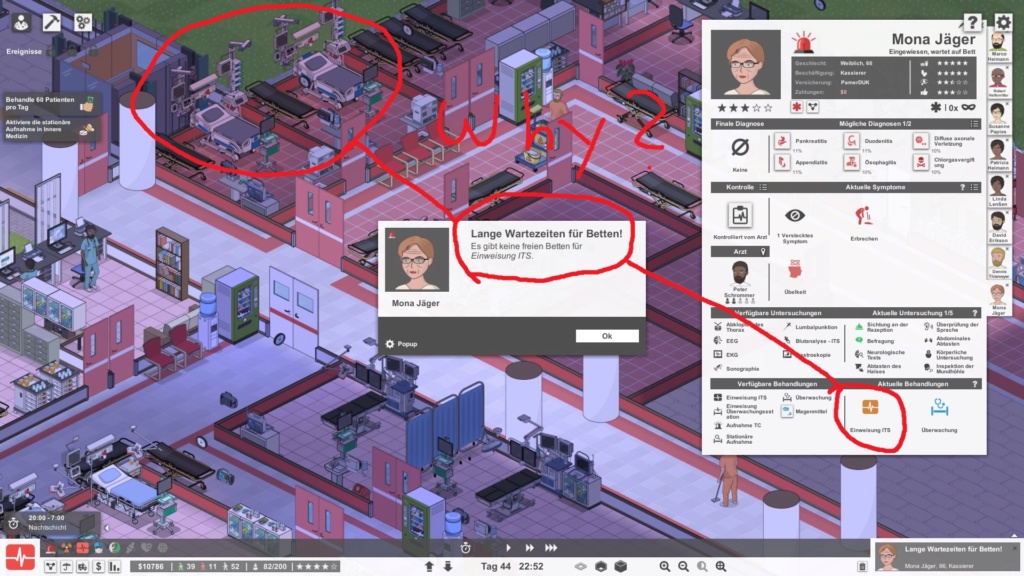 Attachments

output_log.zip

Output_log

You don't have permission to download attachments.

(9 Kb) Downloaded 0 times

Savegameforbugcheck.zip

Save Game

You don't have permission to download attachments.

(722 Kb) Downloaded 2 times
on Fri Nov 09, 2018 8:38 am
Hello - thanks for the report! Actually there is one workaround - if you assign the patient (Mona Jager) manully to ICU dpt, she will be transfered as soon as personel will be free.
Anyway we will analyze the issue and fix it in some future update

on Fri Nov 09, 2018 1:34 pm
Ich habe das versucht. Es funktioniert nicht, dass sie Manuell eigeliefert wird. Ich habe das mit mehreren Patienten getestet und kein einziger wurde eingeliefert.
on Fri Nov 09, 2018 3:27 pm
We'll check if we can make the department switch automatic, it makes sense in this case and could prevent some confusion.

But, it also seems to work ok on my side, even with multiple patients, if I:
- Select ICU hospitalization
- Switch department to ICU using the icon on the top of the card
on Fri Nov 09, 2018 4:06 pm
OHJA, Okay wenn man oben die Abteilung auswählt dann klappt es reibungslos. Das führt aber schnell zur verwirrung. Ich hoffe ihr könnt es bald verbessern.

Vielen Dank!

Permissions in this forum:
You
cannot
reply to topics in this forum