on Mon Mar 26, 2018 11:03 am
As a bit of inspiration for our hospital builds, I thought it would be a good idea to take a look at any hospitals that some of us might work in or are interesting from an architectural point of view. I'll start off with where I work.
The Queen Elizabeth University Hospital (QEUH) is a 1,677-bed acute hospital located in Govan in the south-west of Glasgow, Scotland, United Kingdom. The hospital comprises a newly built 1,109-bed adult hospital, a 256-bed children's hospital and two major Emergency Departments, one for adults and one for children, in addition to buildings retained from the former hospital on the site. It is the largest hospital campus in Europe and makes use of robots to move supplies around the site.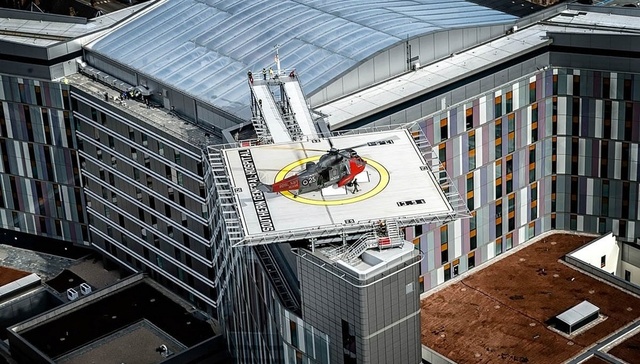 on Mon Mar 26, 2018 3:23 pm
on Mon Mar 26, 2018 4:14 pm
Nice start
I visited the Uniklinik in Aachen, Germany on business last week and found it to be a truly remarkable building. It is a teaching hospital located in the North-Rhine Westphalia region of Germany. Construction started in 1972 however the first rooms could not be used until 1982. The complications in construction arose from the soft ground on which the hospital is built, which contributed to the buildings stark appearance. As you drive up to the hospital you would be forgiven for thinking it is a chemical plant. All the pipes and ducting snake around the outside of the building and this continues inside, with pipes and conduit running across the ceilings. This allowed them to save weight in the building, even so I was informed the building is sinking by 1cm every year!
Uniklinik Aachen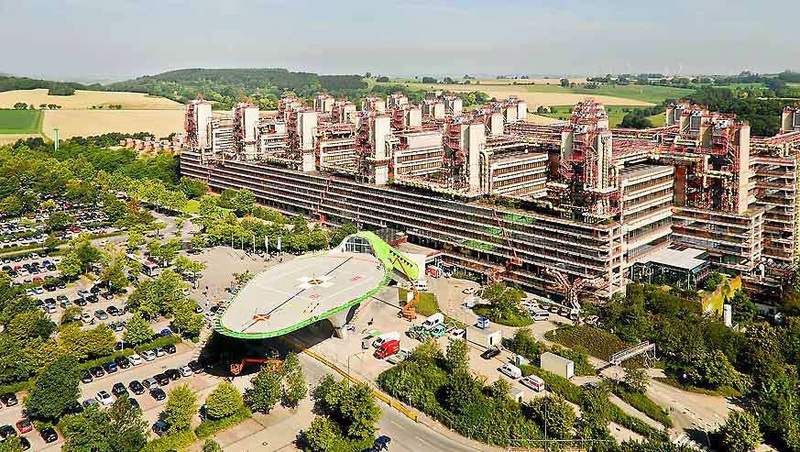 The hospital helipad was built in 2012
This colour scheme runs throughout the whole hospital, green is used as it is a calming colour
on Mon Mar 26, 2018 8:13 pm
on Mon Mar 26, 2018 8:15 pm
Peckham08 wrote: We have you beat

queen elizabeth hospital birmingham

Birmingham l, UK
Ah, the smaller and older QE hospital.


on Mon Mar 26, 2018 11:54 pm
Städtisches Klinikum Karlsruhe
Some beautiful, about 100 year old buildings made of sandstone. There are also some built in the 1960s oder 70s that arent that pretty. I didn't find many pictures of it online, maybe I will take some by myself the next days before I go to work.
on Tue Mar 27, 2018 4:27 pm
Nice thread

This one is mine  

Saarland University Hospital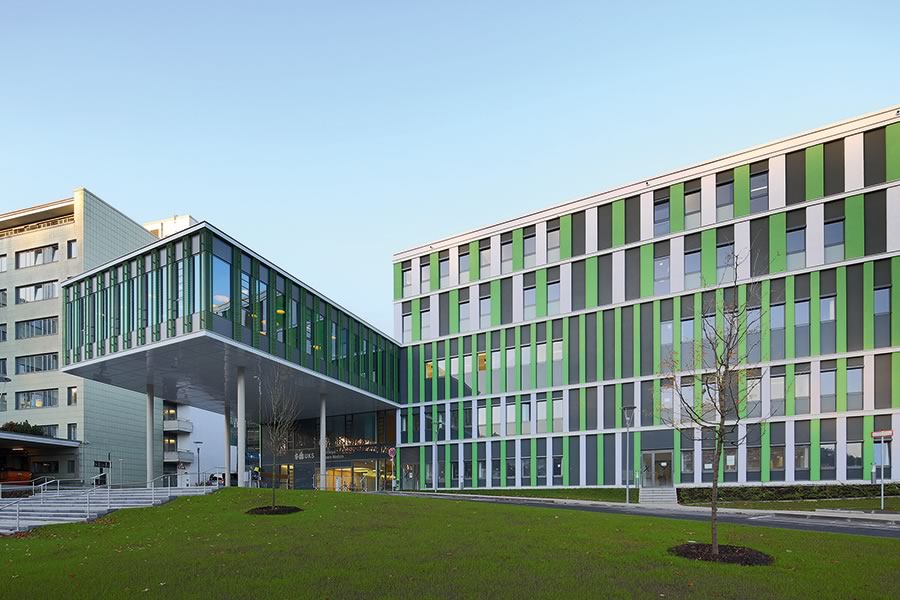 Founded in 1909 as a mental hospital it is now the largest hospital of the region. It has about 1300 beds and more than 250.000 patients are treated every year. Treatment in 50 departments and institutes is provided by about 5.000 employees.
on Tue Mar 27, 2018 5:07 pm
A few images from the wards of my last hospital visit! Do have others but some of them are a bit grim

This is an image of the small room I was taken into after I had been moved from the A&E bed. Those plastic tubes you can see are the MRSA swab tests (I had only been in there about three minutes before that picture was taken) and the cardboard tubes are for peeing into (and yes, they're very liquid proof!!). The ward - an orthopaedic unit - was made up of 12 'private' rooms and four shared single sex rooms each with four beds each. I was only in this room for one night - directly after I had my accident. I'm told that generally patients are only kept in these rooms for one night after they're discharged from A&E, surgery or if they're special interest patients who require more hands on care than others.
This is from the shared part of the ward. You have four beds each sharing a toilet and shower! The majority of my hospital stay was in here... Great view out of that window that window mind!
This last image is from a stay in what I can only assume was a general surgery ward. I was in there because I had complications from the original surgery and had to go back in for more. I was quite out of it on this visit, so much so that I don't know the name of that ward.. I know there were at least two sets of four beds separated by a short open corridor. I was the first patient in there that day, the ward was full by the end of the day. Despite there being eight patients in there, I remember that ward as being eerily quiet, didn't hear a peep out of the others!
Hoping I never have to visit a hospital ever again, will be quite content just building them in a game

on Fri Mar 30, 2018 12:14 am
on Mon Apr 30, 2018 5:03 pm
Good idea guys. Not sure if these outside views could help players with their hospital builds in our game, but it's sure nice to see - as hospitals buildings around the world are as different as day and night. And some of them are truly architectonic wonders!

Permissions in this forum:
You
cannot
reply to topics in this forum